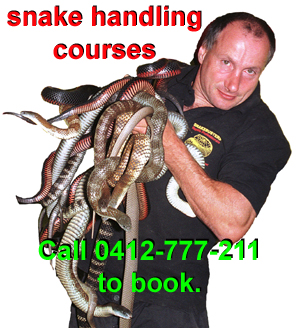 Internationally recognized one-on-one snake handling courses.

Globally recognzied snake handling courses.
Call Melbourne Australia: (03) 9812 3322 to book!
One-on-one snake handling courses
One on one snake handler training by The Snake Man Raymond Hoser is the best way to learn the skills required to catch, handle, relocate or keep snakes safely.


You get taught by Australia's leading snake expert, the right way, the first time.


You can spend more time learning the most important things to your situation.


You can avoid delays caused by other people at a course.


You can choose a date and a time to suit you.


Even if interstate, you can usually fly in and fly out of Melbourne on the same day and on a cheaper air ticket.


You are in the safest hands both on the day of the course and after you graduate.


The best snake handling course is comparable in price to inferior alternatives.


Graduates receive a disk containing nine major books, hundreds of definitive scientific papers and other resources covering every aspect of snakes and their handling.


You receive Australia's best reptiles handling certificate as rated by the Federal Government.


We also do two-on-one, and three-or-more-on one courses as well!
Snake handler courses front page and overview.


Venomous snake catching/handling course links (details)
Pick the most approprate link
Snake catching courses for individuals in Victoria (Course details, booking info, etc).


Snake handler courses for groups (Victoria), and businesses, interstate (non Victorian) bookings, including South Australia SA, Northern Territory NT, Western Australia WA, Queensland Qld, New South Wales NSW, outside Australia, including Asia, Africa, North America and South America, etc (Course details, booking info, etc).


Venomous snake course warning.


Snakebusters website "front page" entry.


Snakebusters website gateway links to all other Snakebusters webpages.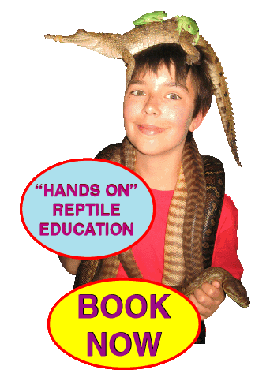 Zoologists, mine workers and others who deal with venomous reptiles prefer to be taught by a globally recognized expert for their snake handlers course training. We travel to all parts of Australia and overseas teaching snake catchers, snake capture, reptile relocations, wildlife control, research methods, reptile awareness sessions, workplace safety, snake spotter courses, toolbox talks, site inspections and more. Areas we service for snakehandlers courses, include, Melbourne, goldfields, east gippsland, mallee, wimmera, high country, Murray Valley, Sydney, Canberra, ACT, Southern Highlands, South Coast, Northern Tablelands, North coast, Greater west, western slopes, alps, Brisbane, Gold Coast, Sunshine Coast, Townsville, Mount Isa, Rockhampton, Cairns, Cape York, PNG, Irian Jaya, Darwin, NT, Arnhem Land, Central Australia, Alice Springs, Adelaide, SA, Riverland, Perth, WA, Pilbara, Kimberly, western desert, Gascoyne, Cape Range, Hamersley ranges, Hobart, Tasmania, South Africa, Middle-east, South-east Asia, USA, Europe, South America and elsewhere.

Phone us on (03) 9812 3322 for further details (Australia).

Snakebusters is one of several registered trademarks for the following: